COLAGENO BEBIBLE + ACIDO HIALURONICO CON VITAMINA A Y ZINC (20% OFF - ENVIO GRATIS)
$131.60 USD
$105.33 USD
20

% OFF
20% OFF Y ENVIO GRATIS !!!
ANTI-AGE - ARRUGAS
Colágeno Bebible + Ácido Hialurónico Vitamin Way® ayuda a mantener la piel hidratada y radiante. Es una fórmula exclusivamente desarrollada para disminuir la rugosidad de la piel y profundidad de las arrugas gracias al porte de colágeno y ácido hialurónico, en una presentación bebible con un delicado sabor a vainilla.
BENEFICIOS:
Ayuda a reducir arrugas y líneas de expresión.
Ayuda a mejorar la hidratación natural de la piel.
Ayuda a disminuir la rugosidad de la piel.
Ayuda a rellenar surcos de la piel.
INGESTA SUGERIDA:
Beber 1 vaso por día.
PRESENTACION:
Frasco con 360 gramos de polvo sabor vainilla.
INGREDIENTES PRINCIPALES:
Por porción: Colágeno hidrolizado 10 g, Ácido Hialurónico 25 mg, Vitamina A 600 µg, Zinc 7 mg.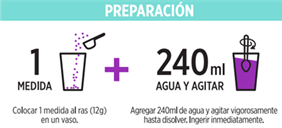 USOS:
Colágeno Bebible + Ácido Hialurónico Vitamin Way® es un complemento de belleza que ayuda a reducir líneas de expresión y arrugas. Es una combinación de ingredientes funcionales cuidadosamente seleccionados y combinados, que estimulan la regeneración cutánea y favorecen la disminución de arrugas y líneas de expresión. Ayuda a lucir la piel hidratada y reluciente, mejorando su textura y flexibilidad.
REFERENCIAS CIENTIFICAS:
Ingestion of BioCell Collagen®, a novel hydrolyzed chicken external cartilage extract; enhanced blood microcirculation and reduced facial aging signs – Stephen R. Schwartz - International Research Services Inc., Port Chester, New York, USA - 2012.
Hydrolyzed Collagen and Skin Health 2009 Clinical Studies Result -Peptan Russelot- The Netherlands.
Discovering the link between nutrition and skin aging - Silke K. Schagen et al - Departments of Demartology, Venerology, Allergology and Immunology, Dessau Medical Center, Germany - 2012.
Cosmeceuticals - Peter Elsner; Howard I. Maibach - Friedrich Schiller University, Jena, Germany - University of California, San Francisco, USA. Pág. 161-169, 172, 175.
Clinical Assessment of a Food Supplement Intake Vs Placebo on Skin Properties. Laboratoire Cosderma, France, 2018.
Oral Supplementation of Speci­c Collagen Peptides Has Bene­cial Effects on Human Skin Physiology: A Double-Blind, Placebo-Controlled Study. Proksch, E. et al, 2014.
The effect of oral collagen peptide supplementation on skin moisture and the dermal collagen network: evidence from an ex vivo model and randomized, placebo-controlled clinical trials. Asserin, J et al, 2015.
Ingestion of an Oral Hyaluronan Solution Improves Skin Hydration, Wrinkle Reduction, Elasticity, and Skin Roughness: Results of a Clinical Study. Imke Go¨llner et al, Alemania 2017.
Results of a Study Evaluating the Use of a Dietary Supplement Formula in the Management of Age-Related Skin Changes in Women with Moderate to Severe Wrinkling of the Periorbital Area. Kantor, I et al, 2002.